Game Creation Tools Classification
Struckd (Struckd - 3D Game Creator) Struckd, 2016 Download it Now !
Classification
GAMING 2.0
(Game creation toolkit)
Create new autonomous games :
Initial state (levels...)
Input methods
misc. (pad, mat...)
Rules of the game
visual editor
select in library
+ Integrated sharing platform
Targeted genres :
Any videogame genre
---
Similar tools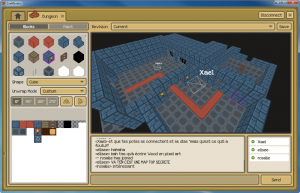 CraftStudio
Kodu Game Lab
guerreiro dragão
---
Struckd is the next-generation gaming platform for user-created content where people from all over the world come together to create, share and play games. Struckd was founded in 2016 and is one of the fastest-growing mobile gaming platforms.
Distribution :
Free
Platform(s) of the tool :
iPhone / iPod Touch
-
Mobile (Android)
Platform(s) of the games created :
iPhone / iPod Touch
-
Mobile (Android)
Links
---
---