Game Creation Tools Classification
PuzzleScript increpare (Steven Lavelle) (Ireland), increpare (Steven Lavelle) (Ireland), 2013 Use it Now !
Classification
GAMING 2.0
(Game creation toolkit)
Create new autonomous games :
Initial state (levels...)
visual editor
Input methods
keyboard
Rules of the game
proprietary script language
Output (graphics, sounds...)
visual editor
2D display
+ Integrated sharing platform
Targeted genres :
Misc. genre
---
Similar tools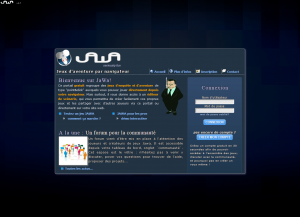 JaWa.fr
---
PuzzleScript is a free, open-source game engine designed to help you make tile-based puzzle games. It was developed in HTML5, so you can run the tool right in your browser and play the games right in your browser. While its IDE-like interface may seem imposing to non-programmers, itís actually quite straightforward and simple to learn.
Distribution :
Internet - Open Source - Free
Platform(s) of the tool :
Browser (HTML5)
Platform(s) of the games created :
Browser (HTML5)
Links
---
---