Game Creation Tools Classification
LittleBigPlanet 2 editor (LBP2) Media Molecule Ltd. (Poland), Sony Computer Entertainment Europe Ltd. (Japan), 2011 Use it Now !
Classification
GAMING 2.0
(Modding tool)
Modify an existing game :
Initial state (levels...)
visual editor
Input methods
misc. (pad, mat...)
Rules of the game
configure parameters
visual editor
Output (graphics, sounds...)
import (images, sounds...)
visual editor
3D display
+ Integrated sharing platform
Targeted genres :
Platform / Shooter
Related games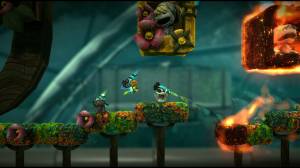 LittleBigPlanet 2
---
---
---
The level editor for LittleBigPlanet 2, which also allows to modify the rules of the game.
Distribution :
Retail - Commercial
Platform(s) of the tool :
Playstation 3 (PS3)
Platform(s) of the games created :
Playstation 3 (PS3)
Links
---
---