Game Creation Tools Classification
The Games Creator (Games Designer / Creations) David Darling & Richard Darling (United Kingdom), Galactic Software / Mirrorsoft / Mastertronic / Codemasters (United Kingdom), 1984 Download it Now !
Classification
GAME CREATION TOOLKIT
Create new autonomous games :
Initial state (levels...)
visual editor
Input methods
keyboard
Rules of the game
configure parameters
Output (graphics, sounds...)
visual editor
2D display
Targeted genres :
Platform / Shooter
---
Similar tools

Headcannon Game Engine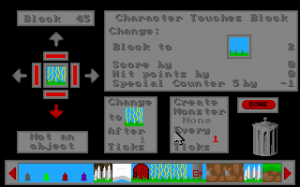 Game-Maker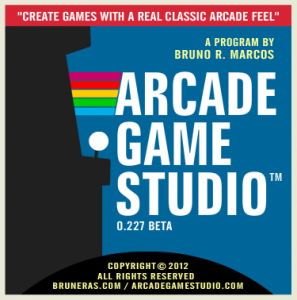 Arcade Game Studio
---
This game creation toolkit was release by three different publishers:
- Mirrorsoft in 1984
- Mastertronic in 1985
- Codemasters in 1987
This tool was created by David Darling & Richard Darling, who later founded Codemasters. The first version of this tool seem to have been edited in 1984 by their first company, Galactic Software, under the title "Games Designer" for the Commodore Vic-20.
Platform(s) of the tool :
Commodore 64
-
Commodore Vic 20
Platform(s) of the games created :
Commodore 64
-
Commodore Vic 20
Links
---
---