Game Creation Tools Classification
JACL (JACL Adventure Creation Language) Stuart Allen, Stuart Allen, 1996 Download it Now !
Classification
GAME CREATION TOOLKIT
Create new autonomous games :
Initial state (levels...)
visual editor
Rules of the game
proprietary script language
Output (graphics, sounds...)
import (images, sounds...)
text-based display
Targeted genres :
Adventure & Role
---
Similar tools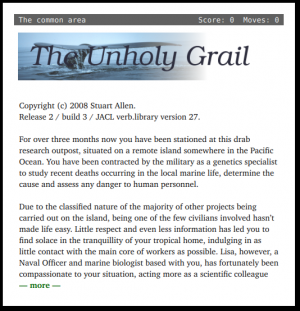 JACL 2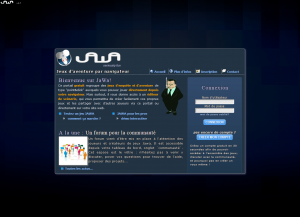 JaWa.fr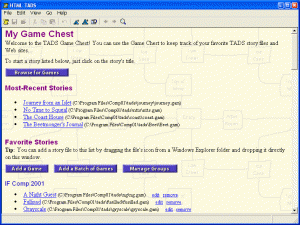 Multimedia TADS
---
JACL is an interpreted language for creating HTML-based games and interactive fiction. The JACL interpreter contains an integrated Web server, allowing games to be played locally or across a network. As all execution takes place on the server, users require nothing more than a plain Web browser to play.
Platform(s) of the tool :
PC (Dos)
-
PC (Linux)
-
PC (Windows)
Platform(s) of the games created :
PC (Dos)
-
PC (Linux)
-
PC (Windows)
Links
---
---